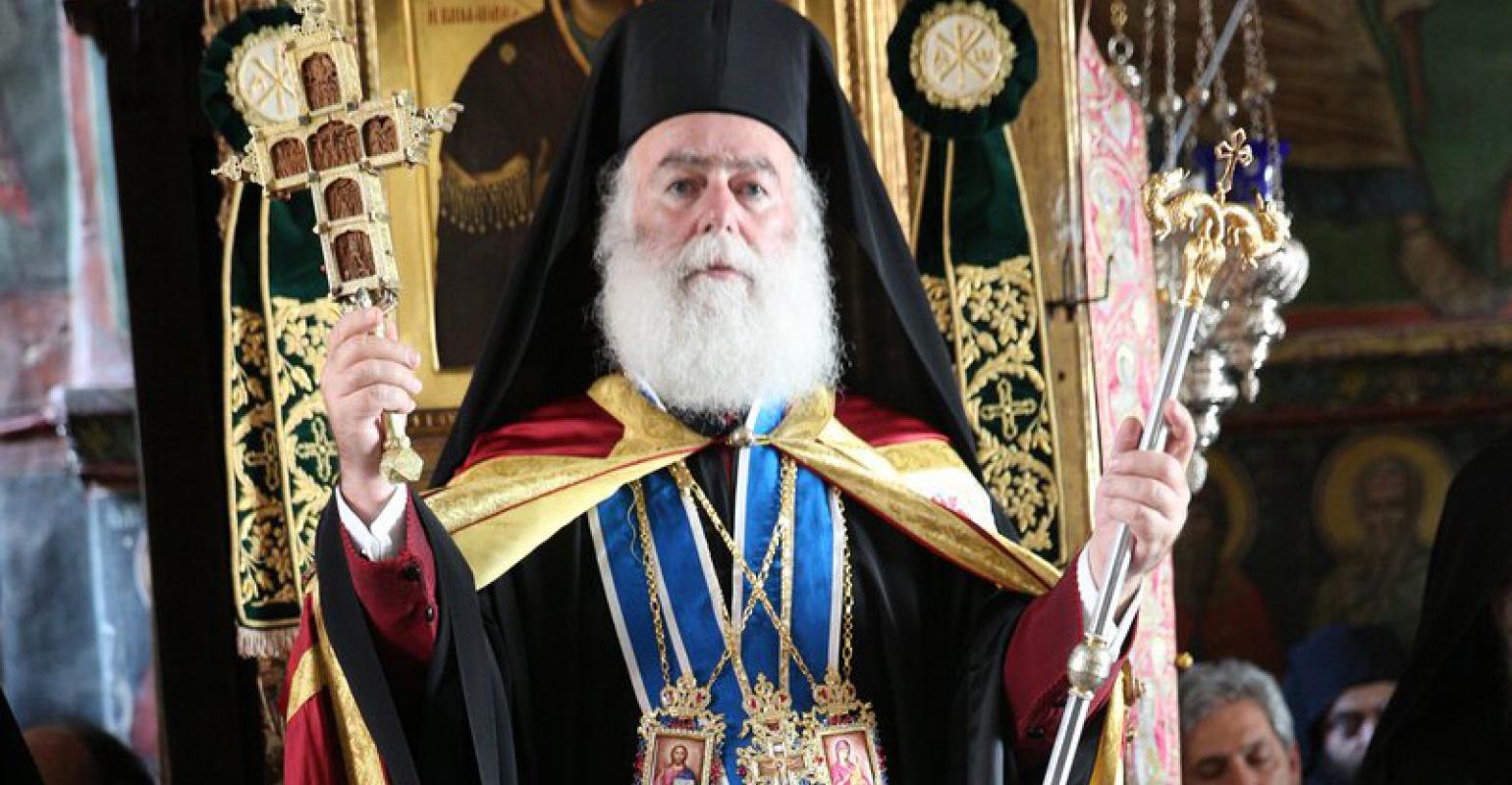 His Divine Beatitude the Pope and Patriarch of Alexandria and all Africa Theodore II (known as Nicolas Choreftakis by his secular name) was born in 1954 in Crete, where he also completed his general education. He is a graduate of the Rizarios Ecclesiastical School, and a graduate of the Theological School of the Aristotle University of Thessaloniki. He also studied in Odessa, where he read History of Art, Literature, and Philosophy. Apart from his mother tongue, he also speaks Russian and French. During the period 1975 – 1985, he served as Archdeacon and Protosingelos of the Holy Metropolis of Lambis and Sfakia, where he engaged in important preaching and philanthropic work: for example, a boarding school for deprived children. In the period 1985 – 1990, during the patriarchates of Patriarchs Nicholas VI and Parthenion III, he was based in Odessa, where he served as Patriarchal Exarch to Russia.
He founded the Hellenic Cultural Foundation, and the Museum of Friendship Society, which enabled 600 children to learn Greek. In 1990, he was ordained titular Bishop of the Diocese of Kyrenia and was appointed Representative of the Patriarch Parthenion in Athens (1990-1997). He has always accompanied His Divine Beatitude Patriarch Parthenios on tours all over Africa, and to international, interfaith, and theological congresses. In 1997, he was appointed Patriarchal Commissioner of Alexandria by His Divine Beatitude Patriarch Peter VII with a view to helping him in the beginning of his Patriarchate; however, after 10 months he was elected Metropolitan of Cameroon. There he engaged in important missionary work: he built churches, schools, and hospitals, and he indiscriminately helped many Africans and Greeks. In 2002, he set himself up in Holy Metropolis of Zimbabwe. Here he built four Missionary Centres in Harare, and the Hellenic Cultural Centre for 400 delegates. He also built two major Missionary Centres in Malawi with their own hospital, technical schools, and nurseries. With the help of the Hellenic Parliament, he renovated the Greek Square (School-Church-Presbyterium) in Beira (Mozambique). He also founded churches, and contributed to the founding of Greek Communities in Botswana and Angola.
On 9th October 2004, he was unanimously elected Patriarch of Alexandria and all Africa by the Hierarchy of the Alexandrian Throne. His enthronement took place on 24th October 2004 at the monumental Holy Cathedral of the Annunciation of the Virgin Mary in Alexandria. Present at the enthronement were the Primates and representatives of all the Orthodox Churches; representatives of other faiths; the political leaders of Greece and Egypt headed by the President of the Hellenic Republic; and thousands of believers. His missionary work in general coupled with his affable character have made him loved not only by all Africans, but also by the Greek and Arab communities in Egypt and throughout the rest of Africa. He has been characterized by many as the 'the Missionary Patriarch' and 'The Patriarch of Love' of the children of Africa.